Part Two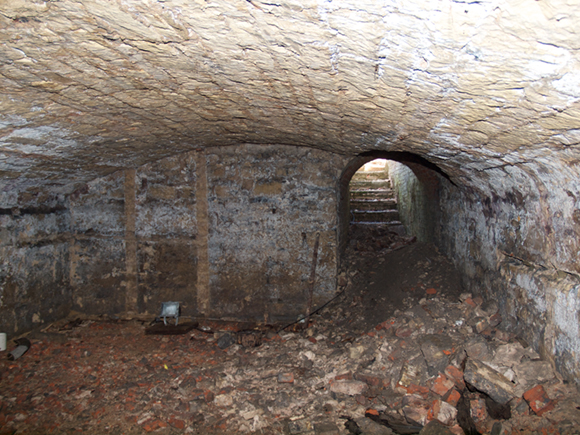 The destruction of Parlington Hall was not a single event. The hall was largely unoccupied sometime after the death of Colonel Frederick Trench-Gascoigne in 1905, his son Dick and new bride preferring the recently inherited Lotherton Hall. Dick, took the view that the property was really beyond saving. Thereafter over five decades sections of the hall were dismantled and some of the components like doors etcetera were taken to Lotherton.
The archway which lay before me, as noted last month, was beneath the dividing wall between the structure to the south, built for Sir Edward Gascoigne in the 1720's and the older portion to the north. I hurriedly collected a torch and returned to the excavation pulling more rubble aside to squeeze through the opening beneath the arch. Sliding down the rubble I found myself in a large cellar. Pitch black, and stale air, my torch picked out the ancient stone walls and above was a vaulted stone ceiling. 'Wow! This is incredible, I said to myself.' After what seemed like an eternity, as the void was completely silent, I raised myself from the rubble and proceeded to venture around the room. A collection of old ceramic pots with faded labels indicating some Victorian preserve were the only artefacts to be found, oh and also part of an ancient rubber tyre from perhaps a vintage car.
The discovery was a memorable moment one which will never fade from my memory, even now years later I can vividly recall the stillness and stale air. No-one had known of this cellar, it had lain undisturbed since possibly the nineteen twenties when the old hall above the access corridor, the wall I had found earlier being part, was demolished. The cellar itself on later investigation of a drawing done by the Gascoignes' architect George Fowler Jones was the footprint of the small drawing room, in the section built for Sir Edward in the eighteenth century. When that was demolished in the 1950's they raised it to the ground unaware of a cellar beneath.
After the 'Indiana Jones' moment, over the next weeks the remaining rubble was taken out revealing a stone stairway down to the cellar, all in surprisingly good condition. The discovery itself became something of a milestone event amongst family and friends, as they visited to see the underground vault!